SILVENT 007-S with stainless steel nozzle. The stainless steel nozzle fits best where really tough demands are made. The nozzle's solid stainless steel nozzle is designed to withstand hard mechanical wear.
Feel free to contact us for questions
Connection in metal + check valve
Soft Grip
Stainless nozzle
Very precise control of the blowing force Blowing force 2.8 N (9.9 oz).
- Reduces the risk of compressed air entering the bloodstream
- OSHA approved
Noise reduction 50%
Air / cost savings 47%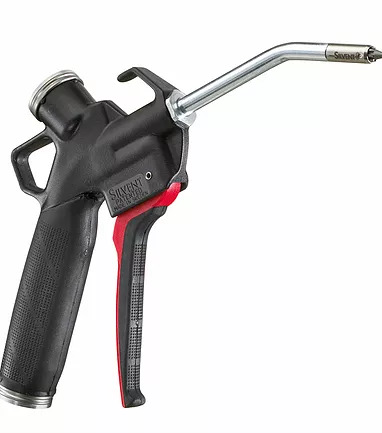 SILVENT 59002W is a blowing gun equipped with an energy-saving flat nozzle that generates strong and efficient blowing power while keeping the noise level exceptionally low.
The blow gun utilizes the compressed air optimally and has a unique construction which has introduced something completely new in the blowing technology. The effect is achieved through the aerodynamic design of the nozzle, which maximizes the co-ejection while each hole profile is designed to have as large a flow area as possible.
The blow nozzle is manufactured entirely in the high-performance material Zytel, which has enabled the unique and very complex Laval holes. The small holes combined with the nozzle's aerodynamic slots provide high efficiency. This blowgun is ideal when you need to blow quickly and efficiently without risking surface scratches.
Noise reduction 78%
Air / cost savings 55%
SILVENT 2055-S: with a stainless steel nozzle.
Recommended if your application requires extreme resistance to wear. The nozzle can withstand nearly any existing application. Designed with aerodynamic slots to use compressed air optimally and generate as little sound as possible. The blowing force is equivalent to the aluminum nozzle on our standard 2000 series gun. Blowing force 15.0 N (3.3 lbs).
Noise reduction 78%
Air / cost savings 55%